Wednesday, July 01st, 2015
Our New Letterpress Business Cards
We recently redesigned our business cards and used went old school with letterpress for some tactile goodness.
Threshold's tagline is 'the point, or place of beginning.' When we set out to redesign our business cards, our ultimate objective was to go back to the beginning and re-imagining what the cards could be. At the end of that process we created a set of one of a kind business cards that are as memorable to the touch as they are to see.
Although our client work is predominately digital in nature, we've always strived to make a statement when it comes to our printed materials. We believe that the quality of a printed piece should say something about the company behind it. With that in mind, we set out to do something special.
We decided from the outset that we wanted the new cards to be use letterpress. It gave us the chance to use different design elements and make sure the card were tactile in addition to their visual appeal. We also knew we'd need some additional expertise to help pull this off, since letterpress by it's very nature requires knowledge that is out of our wheelhouse. That's when we turned to our friend Bri Davey at Portland, OR based Creative Lab Press.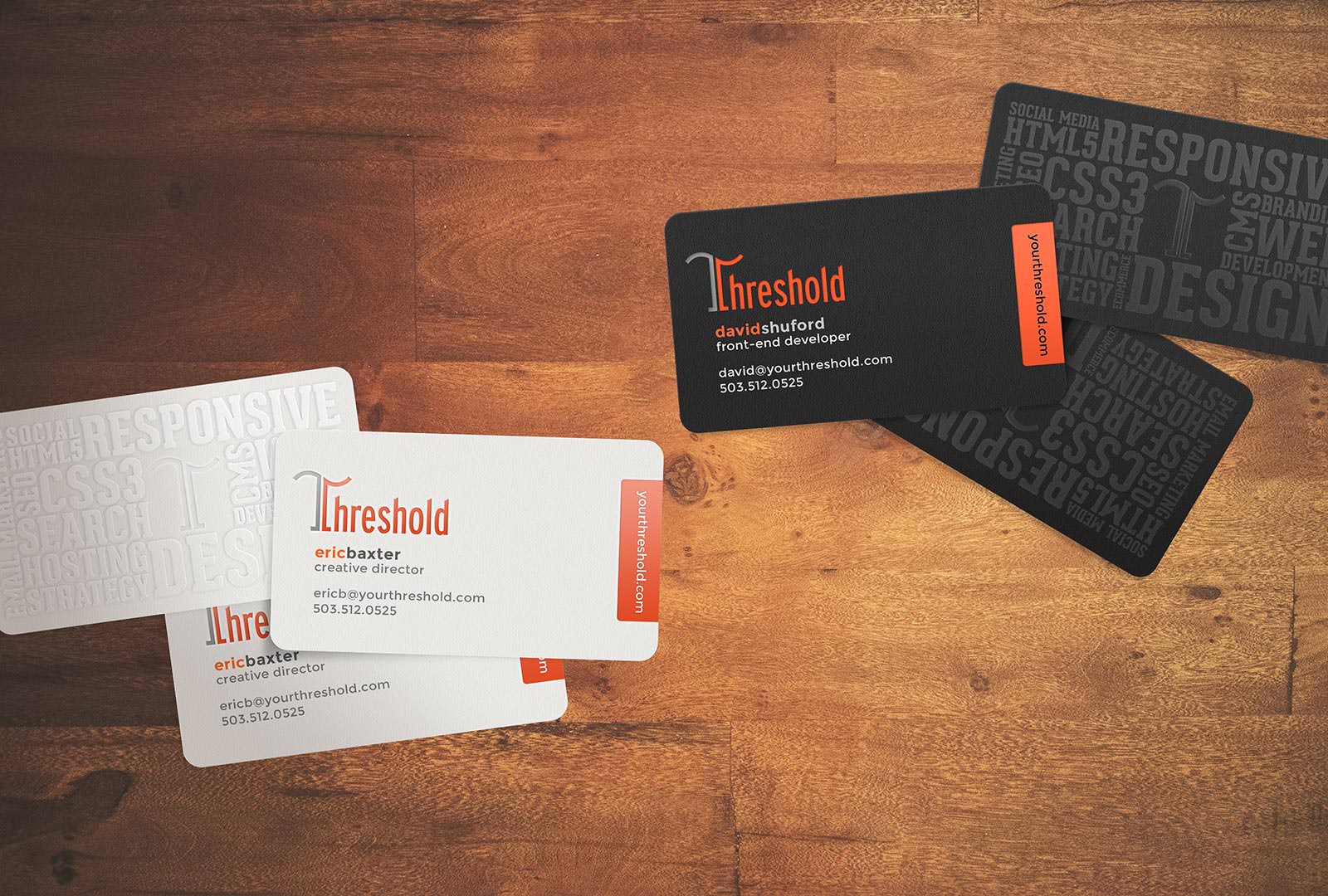 Our final design required two distinct processes, one for each side of the card. Where the front of the card was letterpressed, the design of the back of the card was a bit more involved. The custom word cloud needed to be blind embossed, and the logo mark in the center was to be a blind deboss. In order to rectify the disparate designs on either side, keep one side form showing through to the other, and provide the desired thickness to the cards, the sides were glued together before bring trimmed and rounded at the corners.
We used Lettra Fluorescent White 110 lb cover stock, which is made with letterpress printing in mind. The paper is 100% cotton and has that 'premium' feel to the touch, while still being strong enough to hold up to the rigors invariably faced by the handling of business cards.
We've been nothing short of thrilled with the results. The cards have a rugged / timeless style, and the reactions they get on a day to day basis are exactly what we had hoped for. We're able to communicate quality and be instantly memorable simply by handing over a business card. Going back to the beginning definately paid off - mission complete.